This is a post by Amazon FBA seller, Devan Jordan

When I first started selling on Amazon, it was very difficult to get the Amazon Buy Box which made it difficult for me to grow. The main reason for this was my competitiveness, feedback and seller performance in comparison with other sellers. So, what I had to do was grind and contact customers to try and get them to give me a positive feedback which proved to be time-consuming as well as a bit cringey sending an email begging them for feedback.
Then around three months into my business I found RepricerExpress and in turn found FeedbackExpress.
With a 30-day trial, I thought why not give it a go, it would save me a bunch of time. And it did.
And I haven't looked back since and now use it to send three different messages to by customers which are all automated with embedded links and overall, a lot more professional.
So, I'm going to take you through the basics of FeedbackExpress and how I use it to get one over on my competitors.
FeedbackExpress Walkthrough
The Dashboard Explained
The Dashboard looks great and is really easy to use. Keeping things simple means that anybody can make sense of data, something that can be hard to understand sometimes.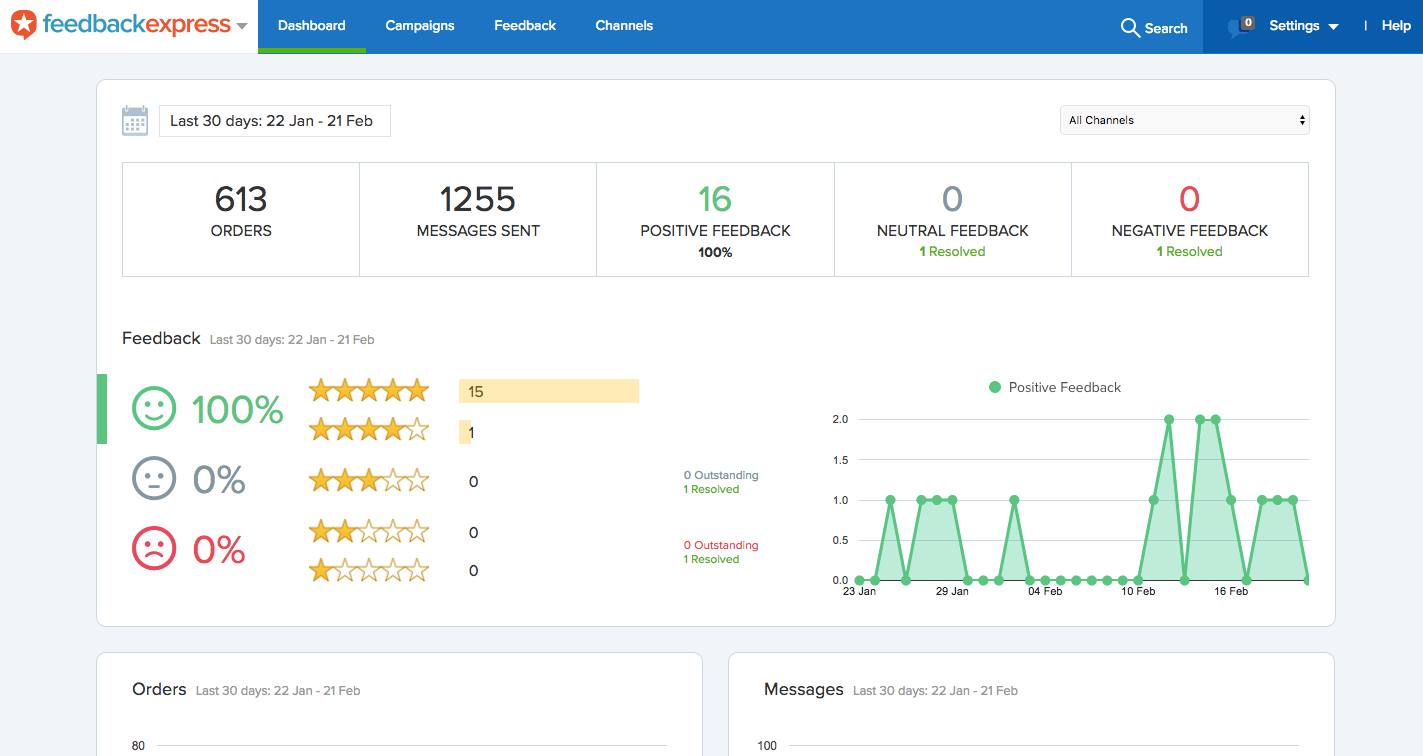 Across the top you have all the main data that you need — orders, messages sent as well as positive, neutral and negative feedback, all of which are interactive, so you can see further details to each.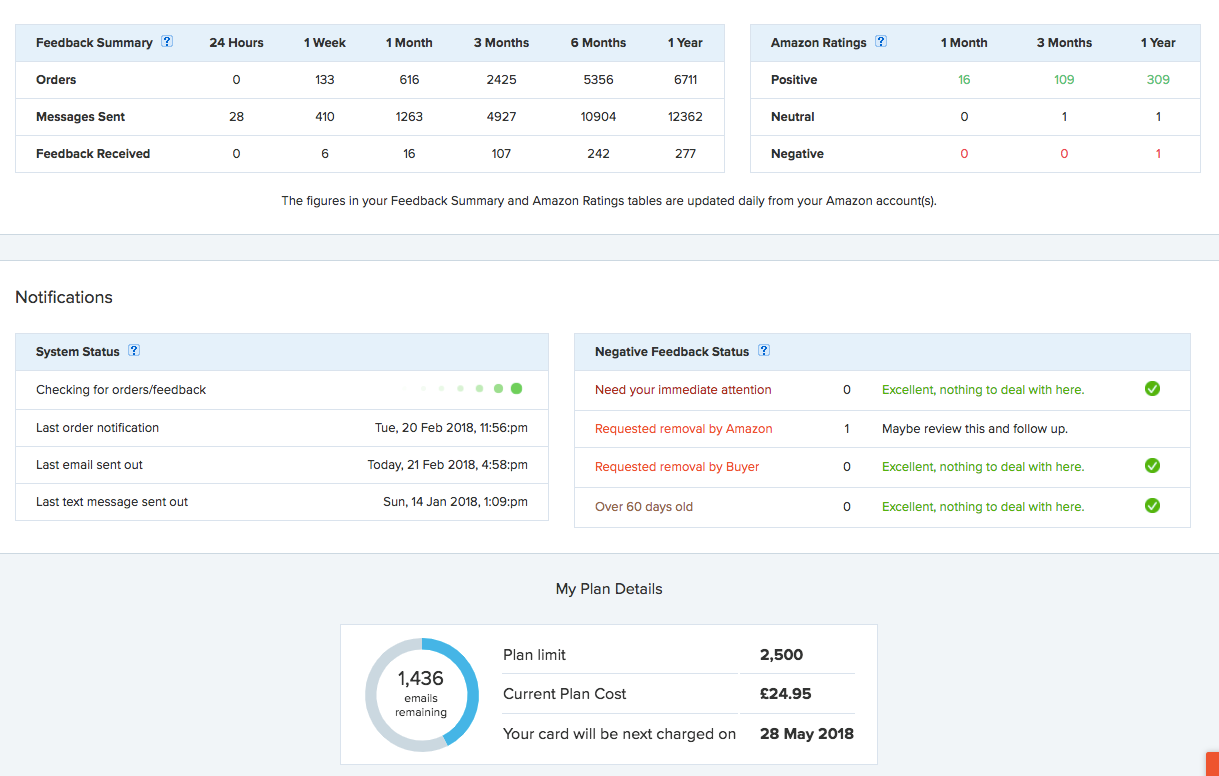 A bit further down you have even more useful information that gives you a status of your account.
On the left you have the status of the system and here is where you can make sure it is all running smoothly, and emails are being sent.
On the right, you have your feedback status — this is HUGE for dealing with negative feedback as it keeps you up to date and helps you step by step.
Finally, below that you have your plan details where you can see if you need to upgrade.
Campaigns
Then you go into the Campaigns tab. You can personalise all of these completely or choose from templates which I show next.
Plus, you can have a campaign for each goal (customer service, seller feedback and product review).
You can see the status of each of these campaigns in the second column and what I do is send the first two campaigns to every order and send the third to customers who give positive feedback to try and get a product review.
Templates
FeedbackExpress offers you templates to make it as easy as possible for you and there are a couple for each goal so that you can target it differently if one way isn't working.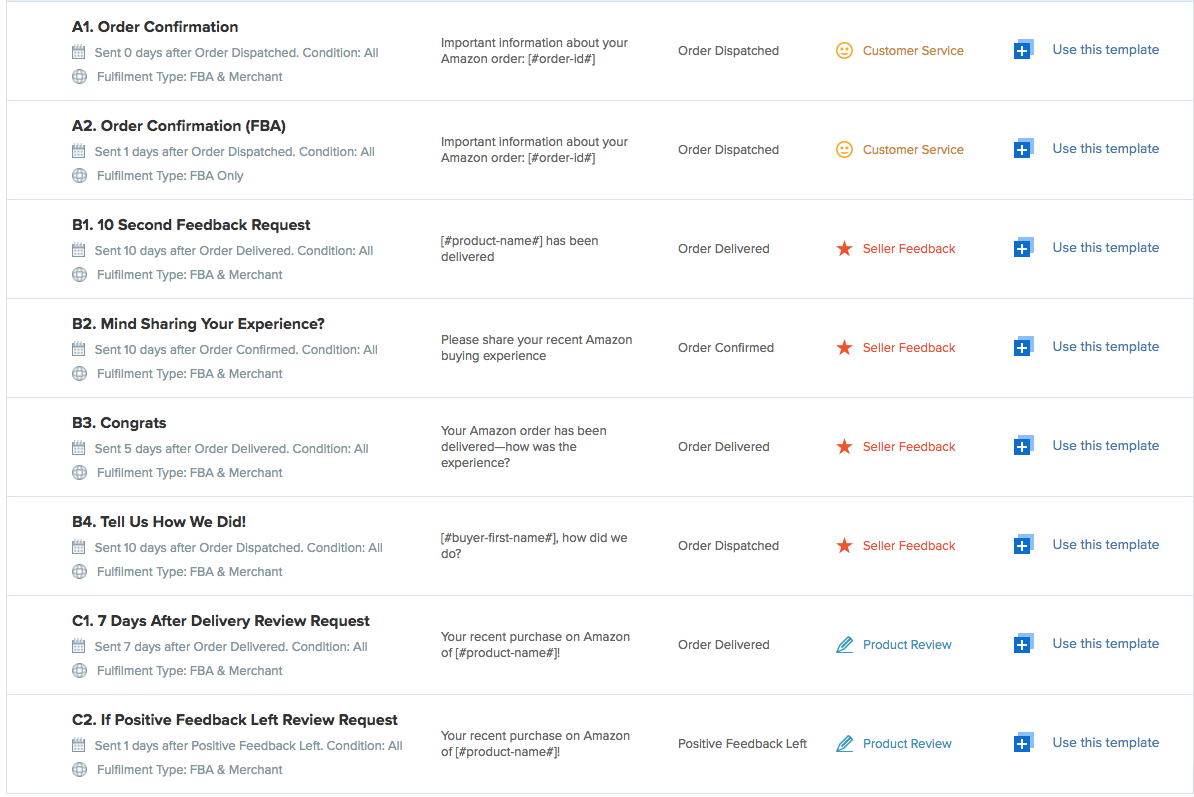 What I did was take one of these templates from each and change a few things to make it personal to me so that it didn't seem 'scripted'.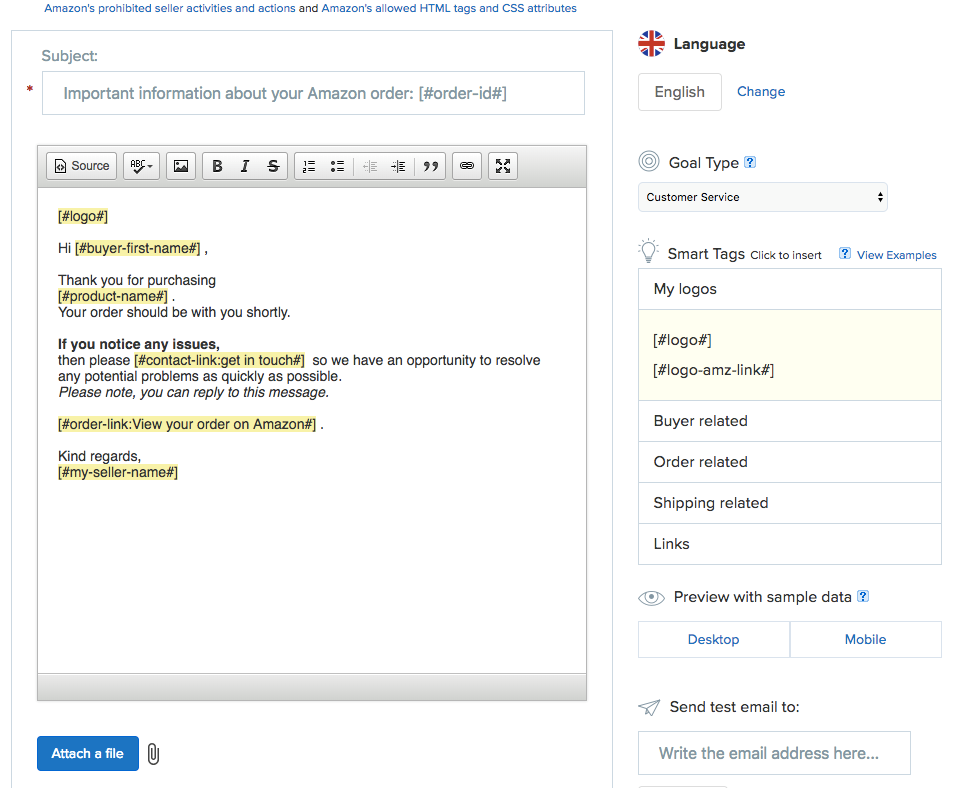 Scheduling
Here is a screenshot of the editing screen of each campaign and here you can do what I've said about personalising it including embedding links and information.
On here I have my logo for my business and you can add other pictures and links using pre-made tags on the right-hand side using the information you have used to set up your account.
Below you can see the settings you can have for each campaign too and even though the templates do make these for you, you can customise these also.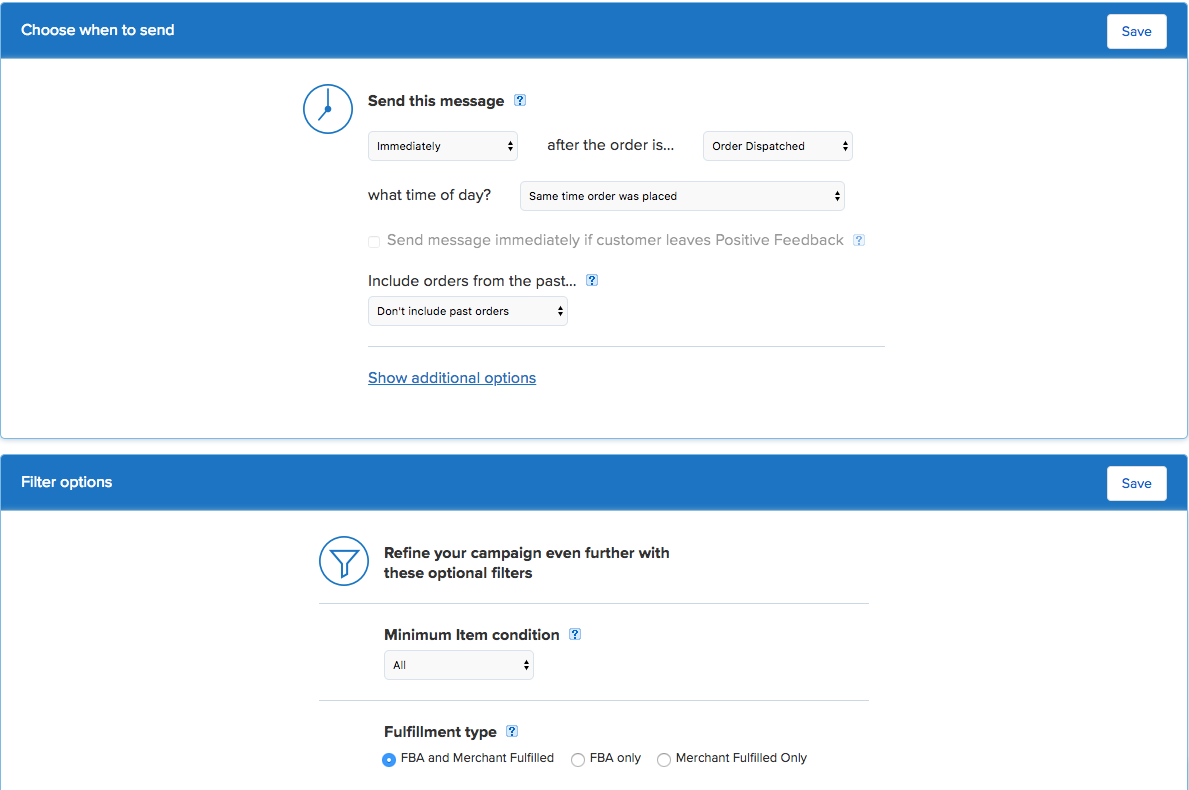 You can choose what times to send messages and it's recommended that you send at the same time the order was placed—whatever time the buyer placed the order is the time they are more likely to have access to the Internet and their emails—and so they're more likely to see your email and engage with it.
Pricing Plans
Finally, you have the price plans and I'd recommend doing what I do and having two emails per order so see these price plans as orders with the first being 500 Orders – 1,250 Orders – 2,500 Orders – 5,000 Orders – 12,500 Orders – 32,500 Orders.

You can also get a discount by paying for it annually.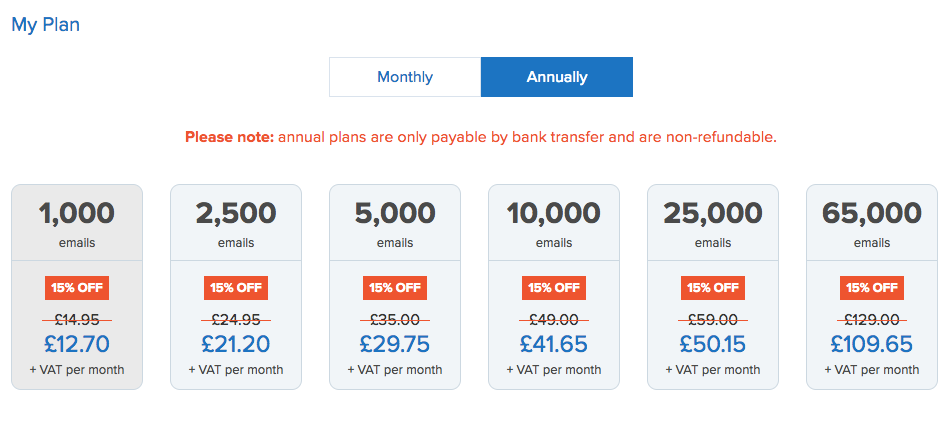 Thanks for reading. I hope you enjoy the software as much as I do.

Related: The Top 6 FeedbackExpress Features
About the author:
My name is Devan and I run a six-figure Amazon FBA business. I dropped out of university and the normal route of society to follow my dream of being my own boss and now at the age of 21, within less than a year of selling on Amazon, I have achieved that. I now not only decide what I do but I run a team which helps keep my Amazon business running from day to day. For behind the scenes footage and other Amazon help, check out my YouTube channel and Instagram.