Building a brand on Amazon takes a lot of work and resources. And many third-party sellers may be wondering whether it's worth the effort. Recent years have shown the enormous potential of the Amazon marketplace for sellers of all kinds. In the US alone, it accounts for almost 50% of all ecommerce sales, being only second to Alibaba worldwide.
Amazon makes it relatively easy for anyone to list a product and sell, which makes one wonder if developing a brand behind the product is really worth it?
Expert opinions differ. While some believe that the Amazon search algorithm is best used by focusing on products that convert, others feel like branding does give sellers an extra edge. So what's the right solution for you?
Well, that depends on your niche, your objectives, your skillset, and, of course, how much you're willing to do. So, if you want to make it as an Amazon seller, here are the pros and cons of investing in branding on Amazon.
Related: Learn more about Amazon Brand Registry
What Sells on Amazon?
Before we go into details about how to approach branding (and whether you need it at all), it's not a bad idea to consider the types of products that perform well on the platform.
According to Statista, the most popular category on Amazon includes electronics, with 44% of shoppers having bought them in 2019. It's followed by apparel, shoes, jewelry, and home and kitchen goods.
Furthermore, the average annual spend for Amazon Prime members (there's 150 million of them as of Q4 2019) amounted to $1300-$1400, while those without a subscription spent less than half that at $600 per year.
So the first thing to consider is this: how do you compare?
Is your strategy to find low-priced products you can source from China and sell at a high margin? Or have you invested years into developing more expensive (>$100) non-impulse buy products?
The Pros of Amazon Branding
If you find yourself in the second category, with products that you designed and possibly even custom-manufactured, then branding is a must.
There are several benefits you can receive from investing in your brand:
Improve rankings on Google.
Drive traffic to Amazon for better performance.
Diversify to achieve the widest reach possible.
Increase lifetime customer value by focusing on retention.
Establish trust and authority.
Maximize customer engagement through social media.
Leverage user-generated content.
Drive down your Amazon PPC spend.
And all of these are especially important for companies whose items exceed the $100 price tag. The simple truth is, most consumers will do online research before making a purchase. This means that brand positioning off of Amazon may help your performance on the platform as well.
Your biggest ally in making this happen is going to be a solid content strategy, focusing on educational resources such as how-tos and buyer's guides.
A person shopping for a higher-priced item is more likely to research the perfect type of product for their needs. The place they're most likely to go is Google, so a brand will want to create content that ranks well on Google's SERPs. If they manage to catch the user's attention off-Amazon, they're likely to become their go-to on Amazon as well.
For example, if "memory foam mattress" is a target keyword, then adding a website section about the pros and cons of such a product is an excellent content strategy, as shown here by Amerisleep. Even if the customer chooses not to search for the brand, but rather the keyword on Amazon, they're still likely to purchase the product made by the company with whom they did their research.
Off-Amazon Branding to Create Product Preferences
Another excellent way of leveraging your brand is to make it either desirable by your target audience or to have it become synonymous with a concept or idea.
The best example of this? The smartphone market. For the past ten years, there's been fierce competition between the two camps in the smartphone industry: Apple and manufacturers using the Android OS (basically everyone else). Most customers have solid reasons for sticking with their OS of choice, and the percentage of those switching between operating systems is still relatively small.
So although a user may research the best smartphones on Google, they're unlikely to go to Amazon and do a search for "smartphone." Even if they do, they'll have a choice of a few well-established brands, and will be likely to remain within their current ecosystem.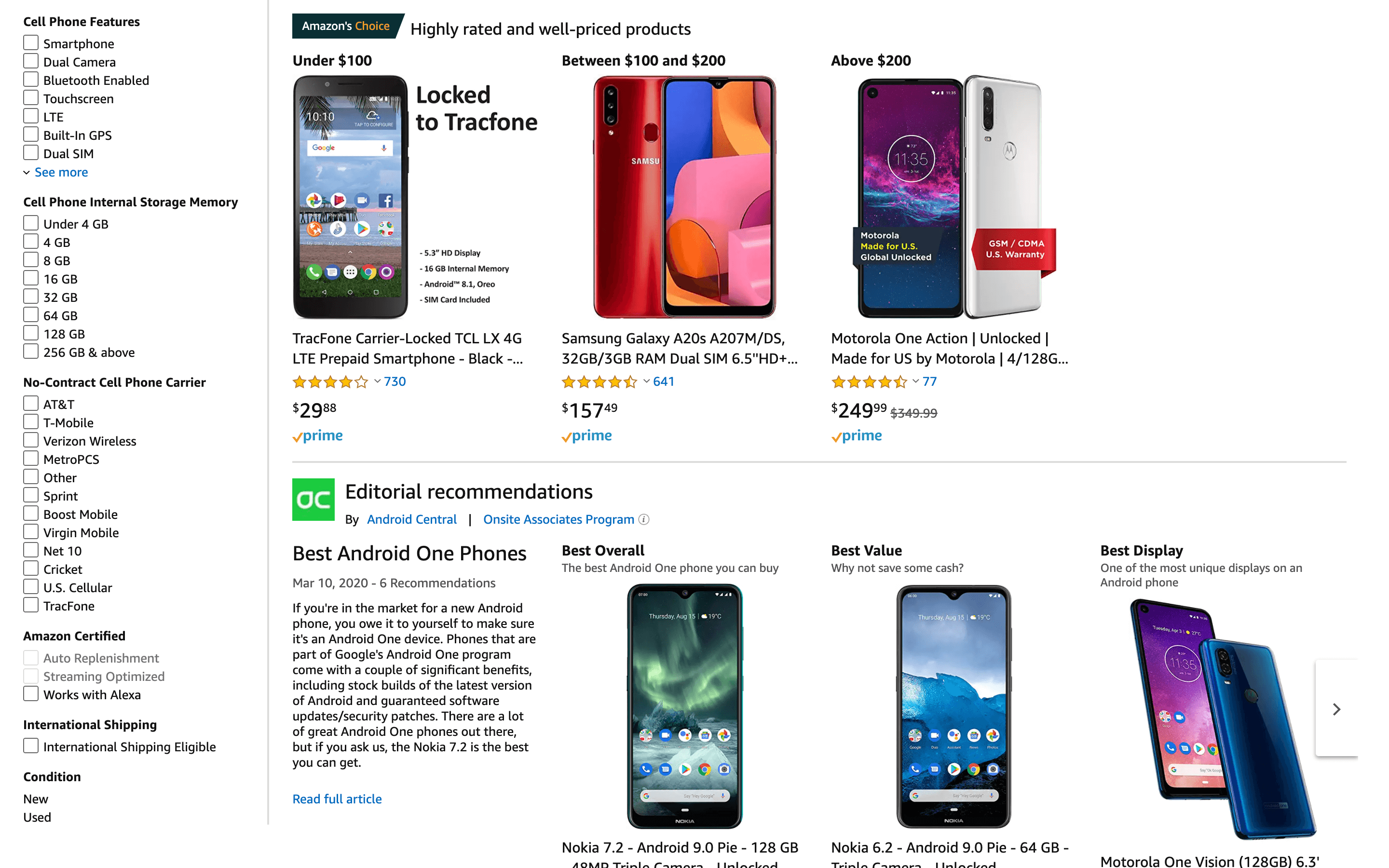 However, companies in slightly less competitive markets can make huge gains by investing in branding. For example, paddleboard manufacturer GILI has a line of inflatable stand up paddle boards that are not only more convenient than regular hard models but are also targeted towards eco-conscious watersports enthusiasts. And their Amazon store (and listings) does an excellent job of reflecting that. So, with the right content marketing strategy on Google, they could become synonymous with inflatable stand-up paddleboards, which would then reflect in their Amazon organic search rankings.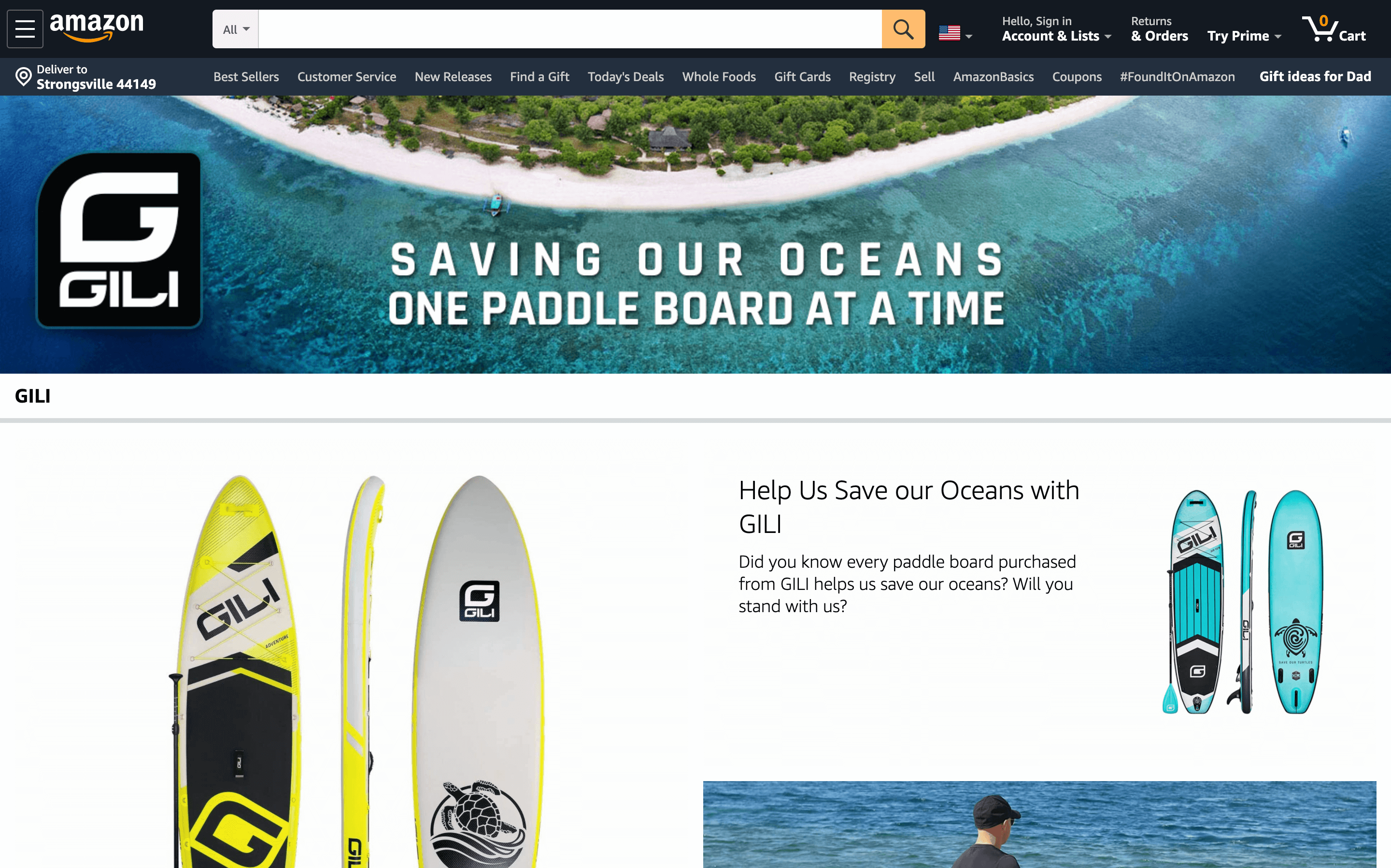 Finally, the holy grail of branding success on Amazon is getting a high search volume on your brand name, such as in the case of Native Deodorant. The natural personal care company has built up its reputation on user reviews. It is performing well with high conversion rates and low ACoS for paid search, which is, ultimately, what every brand should be looking to achieve.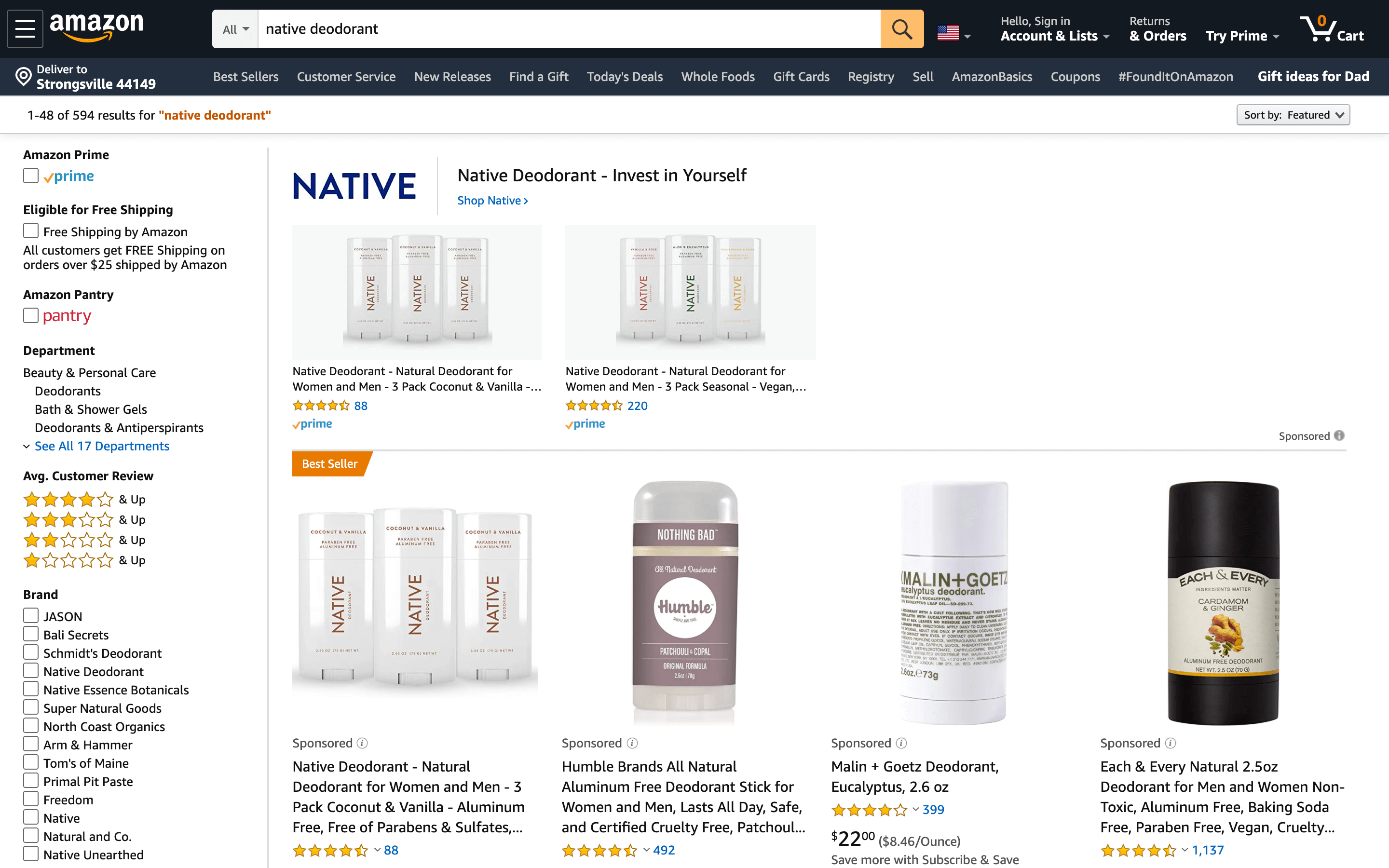 When Should You NOT Invest in Branding?
While the cases above make for great examples of how off-Amazon marketing can help you succeed on Amazon, branding still may not be necessary for your specific case.
The truth is, high-volume, low-cost items hold tremendous potential in terms of ROI. And, for some entrepreneurs, focusing on Amazon SEO and other on-Amazon marketing tactics makes for a better strategy.
So how do you know if you should direct your attention solely towards Amazon?
Private labelling/Sourcing non-custom products from China – Although tariffs and COVID caused supply chain uncertainties have cut into margins with this strategy, it's still the most commonly used. You buy products (that anyone else can buy too, theoretically), slap on a label and throw them up on Amazon. You have a "brand," but you're not truly attempting to create a strong brand impression in the minds of consumers. You just want to sell products.
Exploiting a short-term market demand – If your objective is to capitalize on a short-term keyword opportunity and then move on to the next thing, branding might just slow you down too much. Instead, invest your energy into keyword research, predicting and solving consumer pain points, and optimizing your store and listings.
Of course, these do not mean that you should completely disregard your storefront.
Building an Amazon store will allow you to create a more immersive customer experience, as well as to increase your retention rates, organic rankings, and conversions. Registering a brand will also allow you to make the most of enhanced content on product pages, and give you a wide range of metrics you can follow to measure performance.
Final Thoughts
Choosing a branding strategy to stick with on Amazon is a highly individualized question. For the most part, it will depend on your plans with the marketplace. If you're in this for the long run, then differentiating via branding is definitely something to consider. After all, Amazon is a great platform for sellers, but competition is increasing day after day.
Furthermore, you need to consider that on-Amazon SEO won't build your brand's authority on Google as efficiently as an ecommerce store, a content marketing strategy, and a strong social media presence. So make sure to thoroughly think through the issue. After all, looking to the future will allow you to stay several steps ahead of your competition – which is what you should be aiming to do anyway, no matter where you plan on selling your products.