FeedbackExpress is a popular Amazon feedback tool for all sellers. With so many useful features it was difficult to narrow it down but here are our nine favourite features within our Amazon feedback software.
1. Templates
One of the coolest features within FeedbackExpress is the ability to access a range of professionally written templates for different events and goals. All our templates are available in five different languages to support sellers across seven Amazon marketplaces. For the best results (maximum engagement), we advise sellers to customise the templates for each of their products.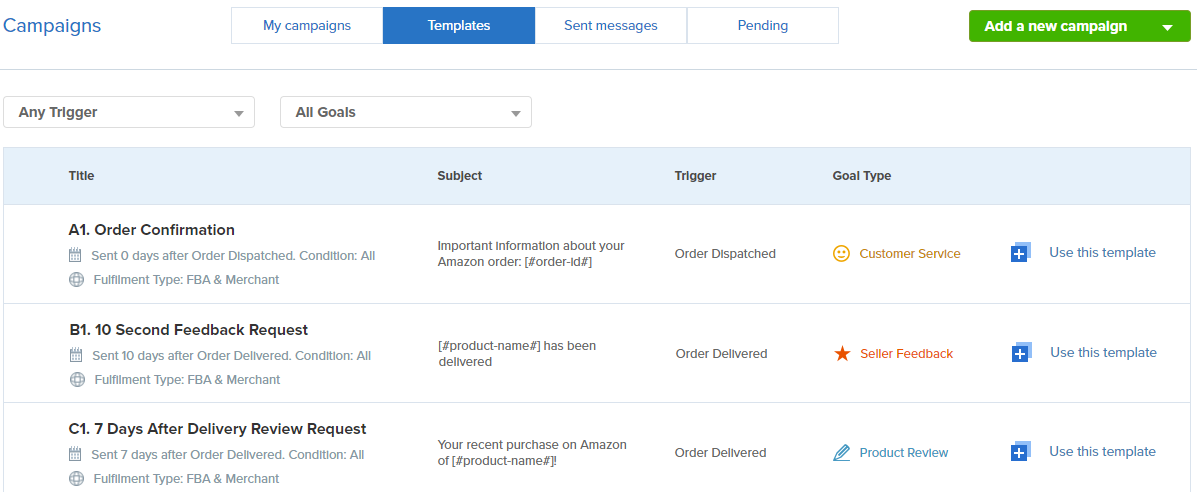 2. Negative feedback notifications
Whenever you receive any negative feedback on Amazon, you should always respond quickly to demonstrate a high level of customer service and build brand loyalty.
One of the most popular FeedbackExpress features is our negative feedback notifications which can be sent directly to your cell phone. There's also an option to add multiple email addresses so one of your team can take action.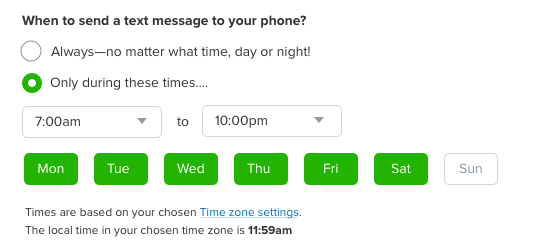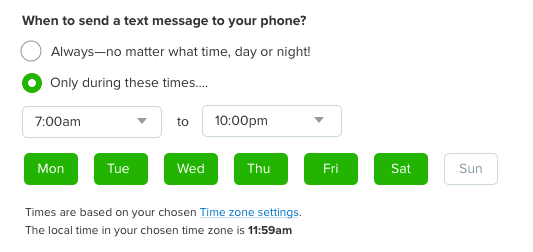 3. Automatic email triggers
This cool feature offers the ability to trigger a product review request any specified number of days after a buyer has left positive seller feedback. This is a good way to boost the number of product reviews you receive on Amazon as buyers who have left seller feedback are more likely to offer a product review too.

You can also set up an email to be triggered when an FBA order is confirmed, shipped, out for delivery or delivered. This allows sellers to create and send custom messages for order confirmation, include tracking information when an order is shipped and follow up emails after an item has been delivered.

4. Blacklist
By using the Blacklist feature within FeedbackExpress, you can proactively prevent negative feedback by not sending emails to certain customers. You can add a buyer to your blacklist using the Buyer Name, Email or Order ID. Once they're on your blacklist, they will no longer receive emails from you. Note, buyers who unsubscribe from your emails or leave negative feedback will automatically be added to your blacklist as well.

5. Resend
Within FeedbackExpress, sellers can see which customers have and haven't opened your emails. This is where the Resend feature can be useful for boosting your seller feedback and product review count.
For example, if a buyer hasn't opened your email, you can resend this 3-5 days later. Often, a number of buyers who missed the first email will open the second one. This one works really well!

6. Product reviews
A product review campaign will help you gather more reviews for your product which is vital for increasing sales and product visibility. This is particularly important for the growing number of private label sellers on Amazon.
If you're selling your own brand of products, consider adding separate Customer Service and Product Review campaigns for each product. This will allow you to add your product image to your emails.
7. Set a start/stop date for your campaign
Whenever you set up a campaign, you'll be able to select exactly when you want the emails to be sent.
You can also use this feature to inform customers about possible delays.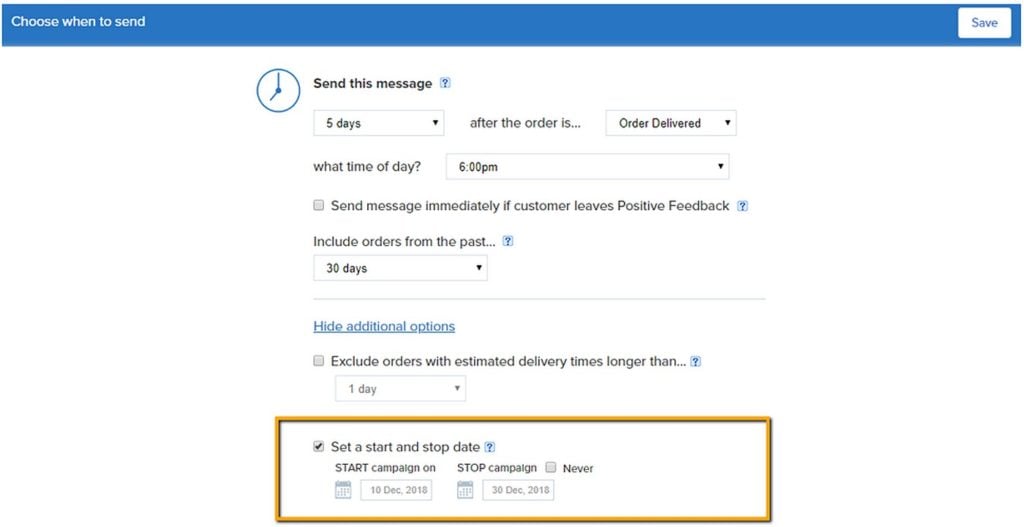 8. Include/exclude
This feature offers the ability to include or exclude orders based on different criteria, such as Item Condition, Fulfilment Type, SKU/ASIN or Location. This is a good way to send emails for specific products only.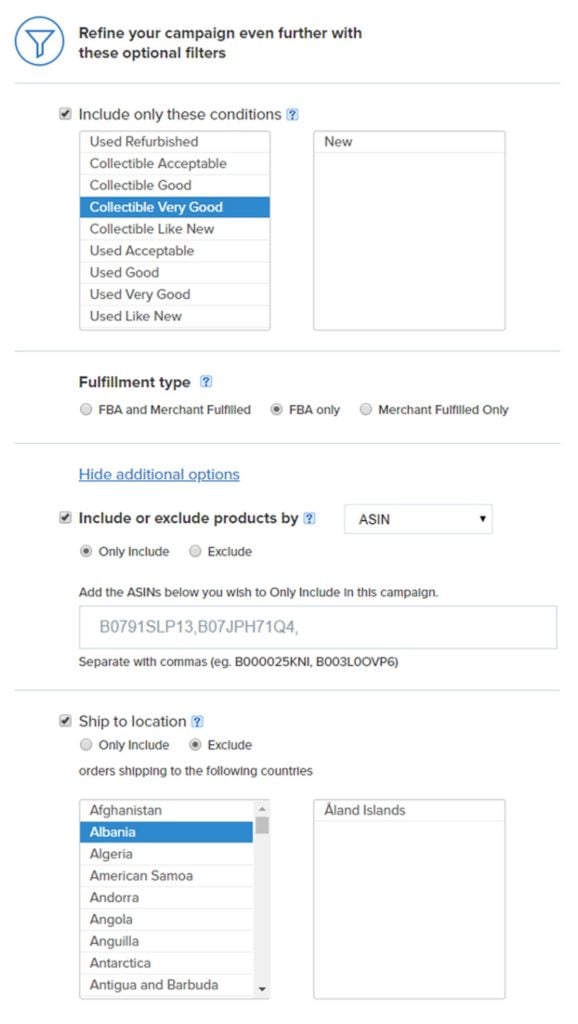 9. Translate feedback
FeedbackExpress enables you to send automated emails across multiple marketplaces, which means that the feedback you might receive won't necessarily be in your main language. To help you, we designed a feature to help you translate any feedback.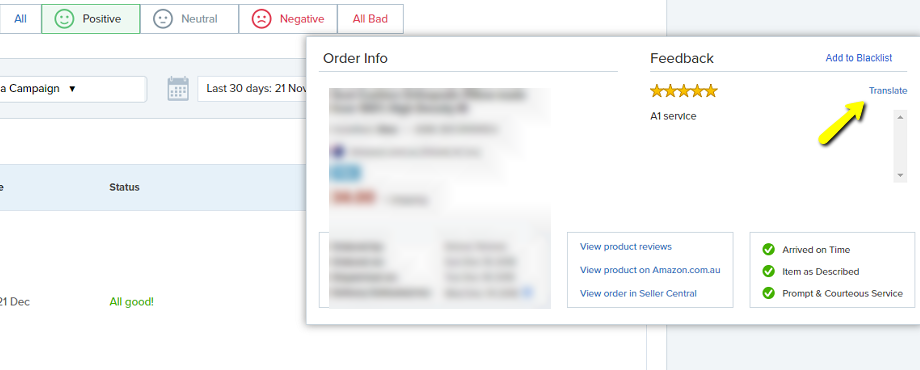 You can select which language to translate through Settings > Language.

Bonus: Great customer service
FeedbackExpress has a large number of helpful customer service heroes that will answer any queries you have via Live Chat or email.
It's absolutely FREE to get started
FeedbackExpress offers a free 30-day trial to test the automated Amazon feedback tool. You'll get access to all the features detailed above plus more. You don't even need a credit card to take advantage of the free trial.



Related: 9 Tips to Help You Get The Most Out of Amazon Feedback Software
Want Pro Tips for Selling on Amazon?