At FeedbackExpress, we work with a wide range of sellers. This post is an interview with Michael Gower from Gower Health Fitness Solutions whose product line includes bunion sleeves and compression socks for sport.
Michael has been selling on Amazon for three years. Before that, he was selling via his websites only. As a private-label company, Gower Health Fitness Solutions relies on product reviews to help drive sales through customer recommendations.
Since using FeedbackExpress, Michael's review rate has increased by 100%!
Selling on Amazon
FeedbackExpress: Why did you start selling on Amazon?
Michael: I realised how big it was. Plus, Amazon's share of the ecommerce market continues to grow.
FeedbackExpress: What product(s) do you sell?
Michael: I mainly sell products that fit in the foot care niche including bunion sleeves, toe separators, compression socks and arch supports.
FeedbackExpress: Do you use FBA? If so, why?
Michael: Yes. I was looking for a way to streamline my fulfilment so I could focus my time more on product selection, branding and marketing. I also heard that using FBA would improve my sales…and it did!
FeedbackExpress: Do you sell on other marketplaces or your own website?
Michael: I sell on Amazon marketplaces in UK/EU and North America as well as my own website. I use Amazon's multi-channel fulfilment for my website orders so all of my fulfilment in these markets is managed through FBA.
Getting started with FeedbackExpress
"I am always on the lookout for any engaging, non-product related content that adds value."
FeedbackExpress: Was it easy to get set up?
Michael: This is the easiest app to set up and integrate that I have seen so far.
FeedbackExpress: Did you find the support team helpful?
Michael: Yes, very helpful, responsive and professional.
FeedbackExpress: How much do you pay each month? Is it worth it?
Michael: £24.95 + VAT a month. Yes, this pays for itself many times over each month.
FeedbackExpress: Do you use any specific tactics when requesting feedback or reviews?
Michael: I follow the methodology that was suggested by the FeedbackExpress team. As a bit of bait, I provide my customers with free exercise videos and I am always on the lookout for any engaging, non-product related content that adds value.
FeedbackExpress: Do you use the software to request both seller feedback and product reviews? As a private label seller, how do you decide which is the more important?
Michael: I use it to request both. I see both as important seller metrics for Amazon.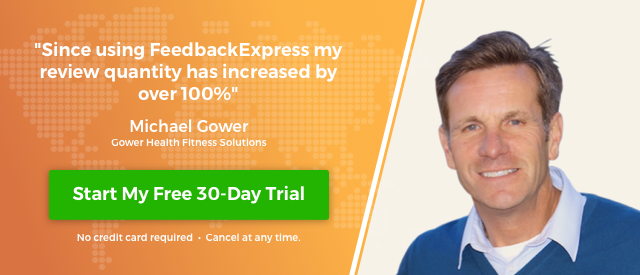 Results from using FeedbackExpress
FeedbackExpress: Would you recommend FeedbackExpress? Why?
Michael: Before I selected FeedbackExpress I tried out many of their competitors. There was no doubt in my mind that FeedbackExpress was by far the best solution on the market.
FeedbackExpress: What features do you use within FeedbackExpress?
Michael: I use customer service after order, seller feedback and product reviews.
FeedbackExpress: Has your quantity and quality of seller feedback improved?
Michael: Yes, my review quantity has increased by over 100% and the quality of feedback has also improved. I am able to deal with any issues quickly and resolve them for the customer so they are happy and give me great reviews.
Also, if you get a bad seller review because of an FBA mistake you can let Amazon know quickly and they will remove it and accept responsibility for it.
FeedbackExpress: Have you experienced an increase in product reviews?
Michael: Yes but product reviews are the hardest to get. I don't think many Amazon customers differentiate between seller feedback and product reviews. It's easy for a customer to leave seller feedback and I think many think that when they've done that they've done enough so asking them to then go back in again to give you a product review is too much bother.
Additional comments
FeedbackExpress: Have you anything else to add that you feel would be important to an Amazon seller when considering FeedbackExpress?
Michael: All I would say is that every Amazon seller needs to be using an automated seller feedback and product review app like this. If you're not then you're at a real disadvantage to sellers that are. And if you are ready to use one then I can save you a lot of time…pick FeedbackExpress!
Join thousands of happy sellers like Michael
With FeedbackExpress, you get the market-leading Amazon feedback software. It's really easy to set up and all plans include a 30-day trial for you to try out and see if it works for your business.
Sign-up today using the promo code "FEX10" and you can enjoy 30 days of Amazon feedback management software for free (no credit card required), then get a 10% discount on your first month's subscription.
If you have any further queries, get in touch via Live Chat or our contact form and a member of our great customer support team will get back to you asap.