At FeedbackExpress, we work with a wide range of sellers. This post is an interview with Devan Jordan who runs Family Affairs, a six-figure Amazon FBA business. Devan dropped out of university and the normal route of society to follow his dream of being his own boss and now at the age of 20, within less than a year of selling on Amazon, he has achieved that!
Selling on Amazon
FeedbackExpress: Why did you start selling on Amazon?
Devan: I wanted to live a life where I was in control and selling on Amazon gave me that. I could sell as much as I wanted, when I wanted and so it gave me a great opportunity of being my own boss.
FeedbackExpress: What product(s) do you sell?
Devan: We sell everything from groceries, health and beauty, pet products, home items and toys—all by reselling branded items, however, we are now looking into selling our own branded products.
FeedbackExpress: Do you use FBA? If so, why?
Devan: Yes, we are an FBA seller and this is the only way we sell products. It gives us the ability to be able to work from home as we don't need a huge place to store these items. We have over 1,000 units in Amazon's warehouses currently—storing this in our house would be impossible!
FeedbackExpress: Do you sell on other marketplaces or your own website?
Devan: No, we only sell on Amazon, however, we do sell around Europe via FBA also and this brings in a small percentage of our sales per month.
Getting started with FeedbackExpress
FeedbackExpress: Was it easy to get set up?
Devan: FeedbackExpress was super easy to set up as it guides you step-by-step through getting started and having the templates for each campaign made it even easier. You can customise these and that is also easy to do and the customer support team is great at helping with the whole setup process.
FeedbackExpress: Did you find the support team helpful?
Devan: As I said the support team is fantastic. I never hesitate to message the support team with any queries I have. I have still to date not had an issue sorted. If the support team can't sort it there and then they will get back to you with a resolution.
FeedbackExpress: Did you have any need to use the multi-language templates for requesting feedback on other European marketplaces? If not, have you any plans to sell in other European countries in the future?
Devan: I have not yet used the multi-language templates as I don't sell a lot on EU marketplaces but if my sales do increase in the EU I will definitely be using them.
FeedbackExpress: How much do you pay each month? Is it worth it?
Devan: I pay £24.99 each month and this is without a doubt worth it. I get access to 2,500 emails and I send 2 emails per order. I will be upgrading soon but for the amount of emails they send and the time saved, it is well worth the price.
FeedbackExpress: Do you use any specific tactics when requesting feedback or reviews?
Devan: I try to make it as personal and less 'automated' as possible. I include signatures and logos to give the customer buying my products a homely feel and not just an automated feedback request that we all hate so much.
FeedbackExpress: Do you use the software to request both seller feedback and product reviews?
Devan: I only request seller feedback at the moment as I don't sell private label goods currently. However, I will be expanding into private label soon and I think that's when the effectiveness of this software will be huge for us in getting product reviews and getting those items ranked.
Results from using FeedbackExpress
FeedbackExpress: Would you recommend FeedbackExpress? Why?
Devan: I'd definitely recommend FeedbackExpress if you have just started selling on Amazon, to become more competitive with other sellers. If you sell your own private label goods, then getting product reviews is the #1 target and FeedbackExpress can help you get that, at an affordable price.
FeedbackExpress: What features do you use within FeedbackExpress?
Devan: I usually only have a quick check through the dashboard as everything is on there, so it's easy enough to stay on top via the dashboard. I also use the Amazon help templates when you receive negative feedbacks and they are good and easy to use.
FeedbackExpress: Has your quantity and quality of seller feedback improved?
Devan: Yes, my quantity has definitely improved and the quality (which I didn't want to totally improve—as if I'm making mistakes I want to know so it helps me figure out what the customers like and dislike which again will be a lot more beneficial when I start private label).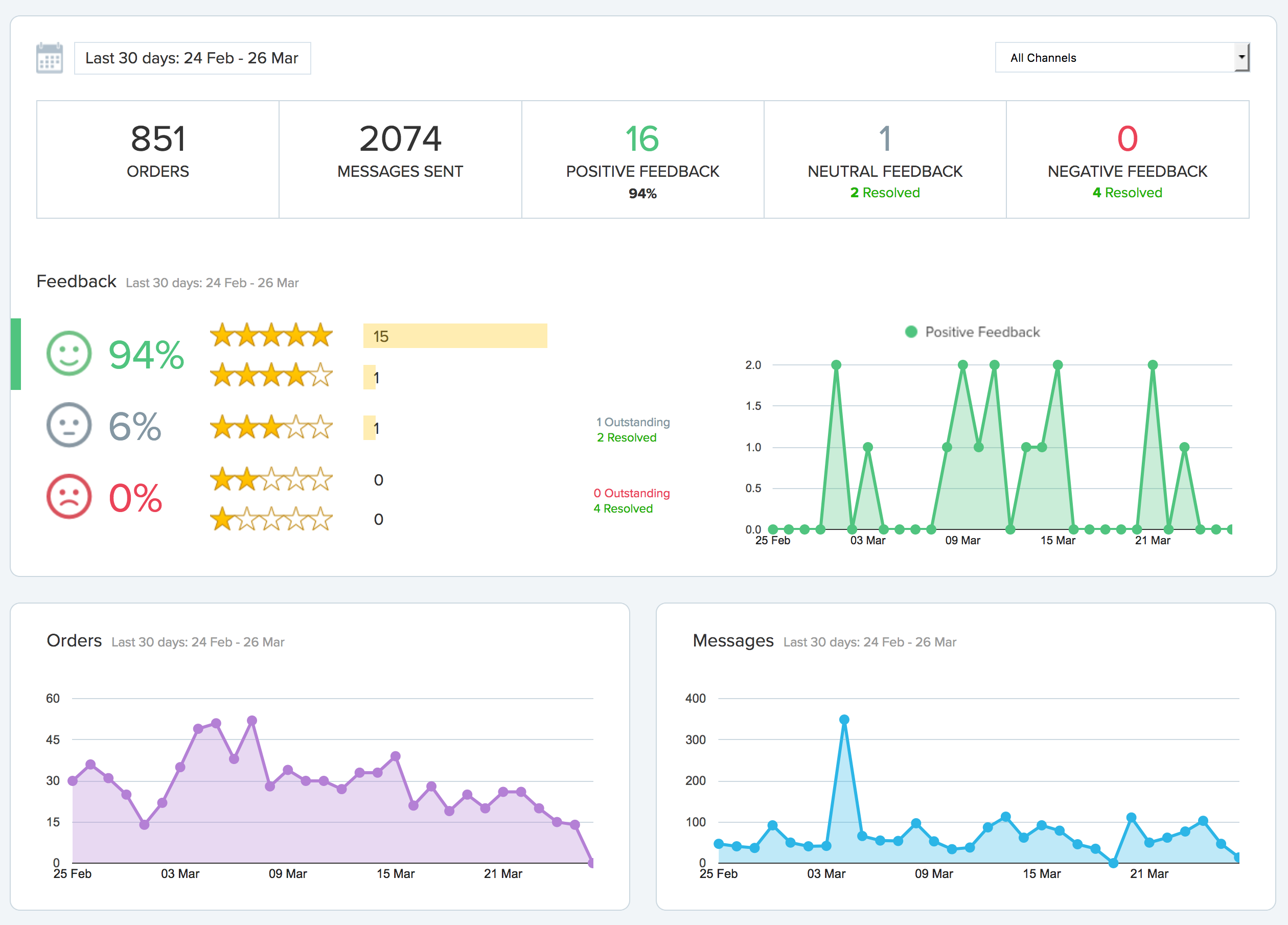 Additional comments
FeedbackExpress: Have you anything else to add that you feel would be important to an Amazon seller when considering FeedbackExpress?
Devan: I'd recommend to start it as soon as you start selling so that every product you sell is giving you a chance to get that feedback and get one over on new sellers around you and getting you that Buy Box too. Also, have a couple of campaigns going on; I have one to say thanks for buying and a second email that politely and personally requests feedback, then a third which thanks them for their feedback which I hope will result in repeat custom.
Join thousands of happy sellers like Devan
With FeedbackExpress, you get the market-leading Amazon feedback software. It's really easy to set up and all plans include a 14 day trial for you to try out and see if it works for your business.
Sign-up today using the promo code "FEX10" and you can enjoy 14 days of Amazon feedback management software for free (no credit card required), then get a 10% discount on your first month's subscription.
If you have any further queries, get in touch via Live Chat or our contact form and a member of our great customer support team will get back to you asap.