Guest post by Nick from eBusiness Boss

Running an Amazon business takes up a lot of time, there are only so many hours in the day… How do I know I am making the best use of my time? I ask myself this question a lot, I'm constantly auditing my actions to keep them in line with the long term goal.
My name is Nick and I have been a full-time Amazon seller for over two years now. I'm a big fan of diversification; I like to try to limit my risk wherever I can… It was this thought process that got me thinking about my sales channels away from Amazon.
We all know that Amazon can close or suspend your account at any given moment, this always made me feel a little bit uncomfortable.
Am I Growing My Online Business in The Right Way?
I am a big fan of Amazon; I mean why wouldn't I be… I work for myself, I'm out of the 9 – 5 and I actually feel like I'm in control of my life. Thank you, Amazon, and thank you Jeff Bezos.
In my opinion, Amazon has built the most sophisticated shopping engine in the world, their customer-focused approach has put them miles ahead of anyone else.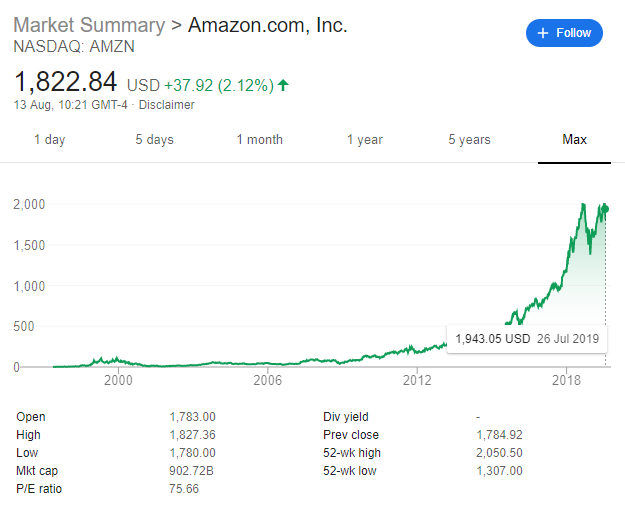 You only have to look at their share price to see how successful they have been over the last 10 years. Plus, their projected share of the retail ecommerce market is only expected to increase.
If you sell products online it makes sense for you to master the Amazon platform, it's where most people are doing their shopping. But with that being said, should you be focusing all of your attention on one platform?
I believe that you should be looking to grow your brand awareness away from Amazon too. If it's done in the right way you will sell more products and increase the value of your company.
Which Other Marketplaces Should I Be Looking At?
As a private label Amazon seller, I have always been interested in brand building. In my eyes, Amazon is a great place to start. You don't need to worry about driving external traffic, Amazon will handle that for you.
I think we can all agree that you should be selling on Amazon, but where else could you consider? After my Amazon business began to generate profit, I decided to reinvest some of it into my own website.
When I started, I had next to no experience with building websites. To build an ecommerce website I thought you'd have to be extremely tech-savvy, but boy was I wrong. A friend of mine introduced me to a platform called Shopify and within a month I had my own store.
My store brings in additional sales and helps validate my brand. Sometimes if a customer is looking at purchasing a product on Amazon, they may well google the company to see if they are reputable and trustworthy.
Here are a few reasons why I think you should capture customers away from Amazon too:
People will find you through word of mouth.
You have no restrictions on what you email them.
You can build an email list, and this is yours forever.
Based on my experience I'd say focus on your amazon sales first, once you have consistent sales look to build on your external sales channels. I first decided I wanted to diversify after we were hit with our first BIG problem on Amazon, I won't go into it now, but I will say that it cost us a lot of money.
The video below explains what happened…
After this happened, we decided that we would always innovate and keep moving to ensure we were never left exposed like this again.
How Will People Find Your Other Sales Channels?
If you've got a small to medium-sized company your time and budget is likely to be limited. We are in this exact position; you can only do so much! If you decide to start your own website, I'd recommend trying to become an expert in one area.
Otherwise, you'll run the risk of spreading yourself too thinly.
Choose one of the following and dedicate time or employ a suitable team of people that can contribute consistent, relevant content:
Guest posts on other blogs (with links back to your site)
Paid Advertising
Do NOT try and do it all at once!
Instead, pick one area of marketing and go all in. Be warned… It can take time to gain traction in comparison to Amazon. BUT the long-term benefits can be incredible (if you stick to it).
For me, brand building is the name of the game, in the long-term, it's all you've got. Your customer experience is everything…
You want people to remember your brand, so they tell other people and potentially return to buy products themselves. I also use my product packaging and inserts to build rapport with customers… Selling online is simple, you just need to do everything possible to make sure the customer has a great experience.
Related: How to Build Your Brand on Amazon
Other External Channels You Could Consider
You don't just have to consider building your own store, you could take advantage of other marketplaces that already hold an audience.
Here is a list of the popular ones:
Walmart and Jet will only be relevant if you sell your products in the US marketplace, but Groupon and eBay are worth considering otherwise. eBay is a popular marketplace but your success on the platform will depend on the type of products that you wish to sell.
Groupon is also a very popular website, the only thing to think about here is the margins. You will have to offer heavy discounts but in return, you can shift A LOT of your products.
If you aren't interested in building your own store, it's surely worth testing the water with one of these.
Your Time Is Limited – What Should You Focus On?
Before you move onto a new project make sure you have enough time to continue improving your main sales channel. We all have limited time… I like to focus on the areas of my business that are generating the biggest return, I'll spend 80% of my time here and 20% working on new projects.
Anyway, thanks for taking the time to read this article, I really hope you've found it useful!
Nick