So, you signed up for the free 30-day trial with FeedbackExpress, set up some campaigns and automatically sent emails to your customers. So, what's next? Well, you'll want to be certain that your campaigns are performing well—so here are four ways to ensure that what you have set up will deliver the best results.
1. Is there an increase in the number of emails received?
We've said this before but receiving more messages from your buyers is not a bad thing — it's actually a good sign. When buyers get in touch, it's your chance to address any potential issues they're having without them lashing out and leaving you a negative feedback or review.
Use the opportunity to provide excellent customer service and more often than not, you'll find they'll purchase with you again in the future and be willing to leave feedback when asked.
Scenario: I recently purchased a set of chairs on Amazon and only one set of screws was delivered with it. I emailed the seller directly highlighting that it was missing, and they sent me a replacement set right away. I received it the next day.
Result: I built my two chairs now (and they look lovely!) and I was so happy about the service provided that I not only thanked the seller directly after receiving the new set, but I also went out of my way to leave positive seller feedback and a product review.
2. Check the Open Rate of your campaigns
When you start using FeedbackExpress, you will have access to a lot of smart data to find out how your campaigns are progressing, how much feedback and how many reviews you're receiving etc.
One valuable feedback metric is the Open Rate of your campaigns. It will give you an indication of what percentage of your emails are actually being opened by buyers.

If you see a high open-rate, you should be happy because it means that a lot of people are actually opening the emails you sent, and this improves the likelihood of them leaving positive feedback or a product review as a result.
If you see a low open rate, you might want to review your email subject line and make it catchier so that they will feel compelled to click on it!
Seller tip: Instead of the boring traditional "Your Amazon order is on its way", try out some of these:
Your feedback is valuable!
Your Amazon order has been delivered—share your thoughts
We'd love to hear your opinion!
Not long now!
Don't keep it to yourself!
Try these out and see if they positively impact your opening rate. Above all else, ensure your subject line is relevant to the email's content and try not to give away all the content within the subject line, otherwise, your customer will have no reason to open the email. For example, many sellers use the subject line, "Your Amazon order has been delivered" without any additional call to action or text. If I read that within my email subject I would have no reason to open the email, as I now know my order has been delivered.
Also, don't forget to use the Performance tab (available for each campaign) to get a quick glance at how you are doing statistically speaking.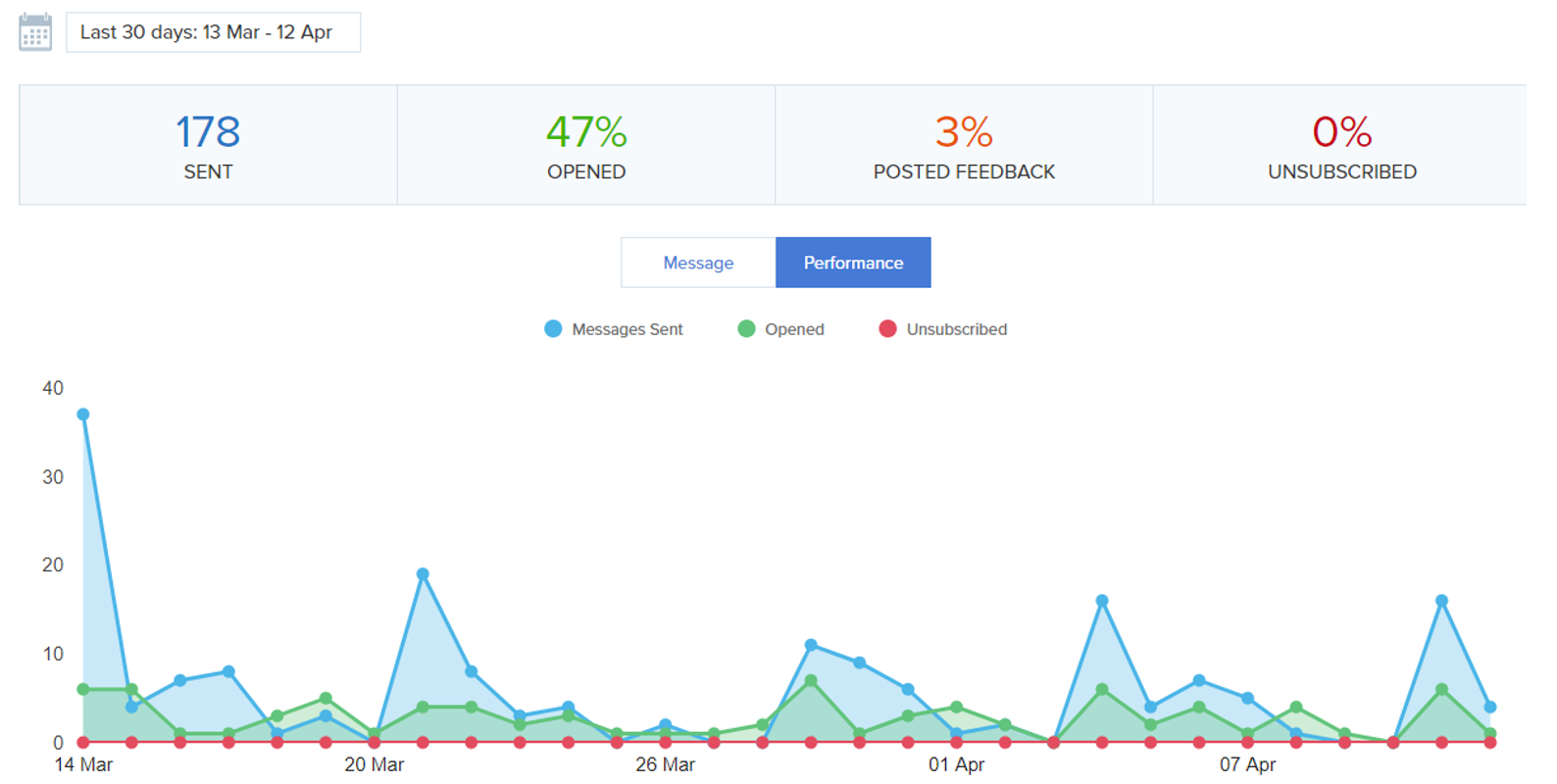 3. Identify what is a good performing campaign
The type of products you sell, the fulfilment type you use, the conditions of the products you sell, your account health. These are all factors that will determine what is a good seller feedback and product review rate for your campaigns.
Without using a feedback management system, the average feedback and review rate would be close to 0.5%-1%. When using a feedback management system, it typically goes up to 3-4%.
What would be a good return for me?
What we would generally recommend is that you create your campaigns and let them run for a week or two without changing anything. Then after a week, start looking at the details of your campaign and its performance, start making changes and see if things improve from there.
Everything in FeedbackExpress is customisable such as, when to send the email and for which orders—so you have total control and can fine-tune until you find what works for you!
4. Receiving more seller feedback and product reviews!
Of course, the main indicator that your campaigns are performing well is that you're receiving tons of positive seller feedback and product reviews. FeedbackExpress displays this information on your dashboards.
Seller Feedback Dashboard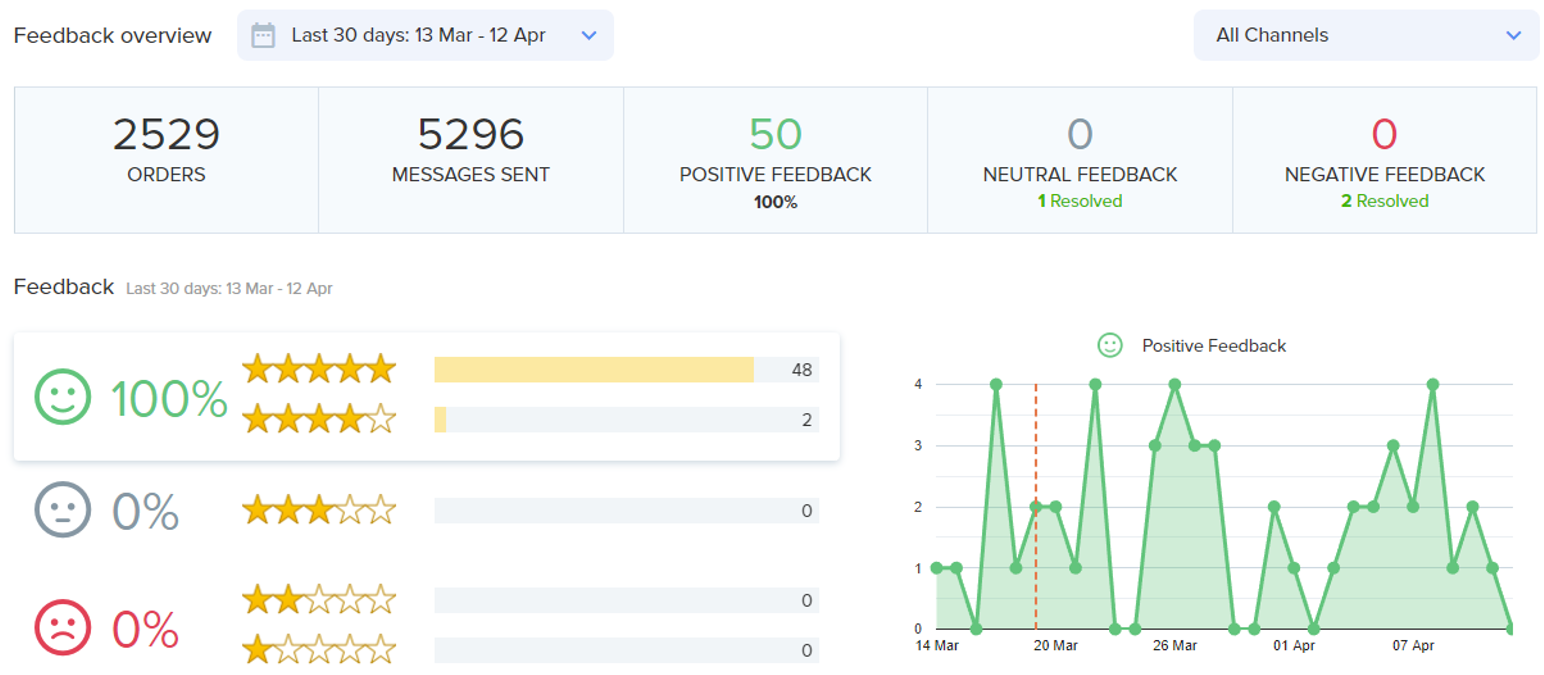 Product Review Dashboard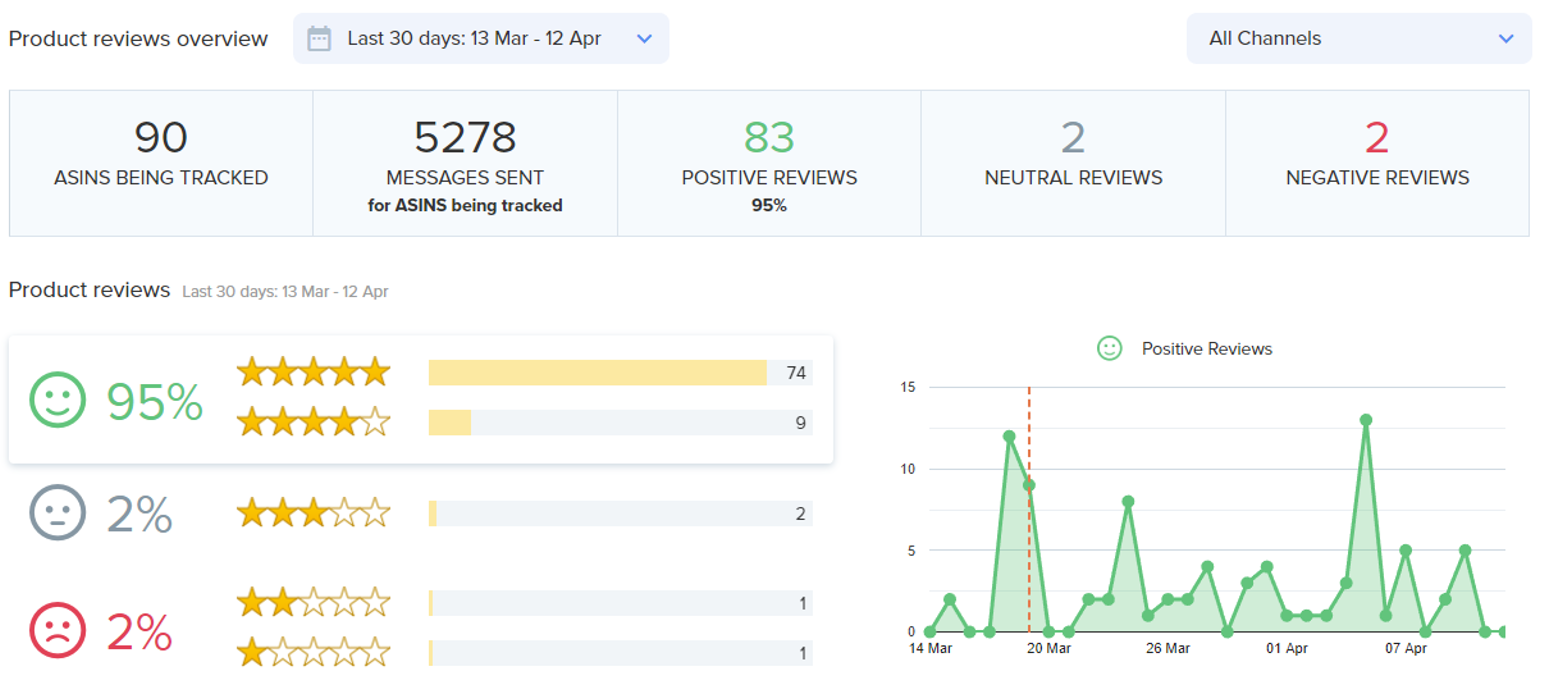 Negative Feedback Alerts
One of the most loved features with FeedbackExpress is the ability to set up email and/or SMS notifications if negative seller feedback or negative product reviews are received. With an alert, a seller can quickly jump on their PC (or smartphone) to try and address the issues raised before their seller metrics are adversely affected.
Final Thoughts
I hope that these quick tips helped you identify which campaigns are performing the best and adjust the others. Don't forget that our amazing customer support team is always happy to help if you have questions or would like to improve your results. Don't hesitate to get in touch with them on Live Chat or via support@feedbackexpress.com

Related: 9 Tips to Help You Get The Most Out of Amazon Feedback Software